Limited Edition S. T. Dupont Taj Mahal Ligne 2 Lighter #26/200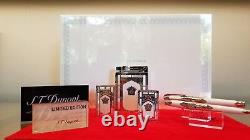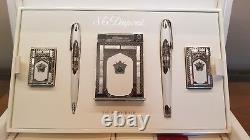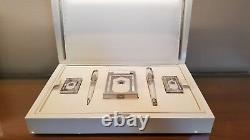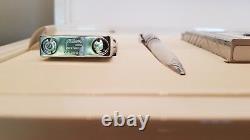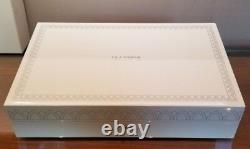 This is a genuine, limited edition S. Dupont Taj Mahal Ligne 2 Lighter in Pearl White Chinese Lacquer, Platinum Base/Trim, with exquisite Mother of Pearl Inlays. It comes in pristine condition in the original presentation box. The Taj Mahal bears witness to the eternal love between the Mogul emperor, Shah Jahan, and his queen, Mumtaz Mahal. On her deathbed the queen asked her beloved to build a monument that would be the symbol of their enduring passion. The greatest artists of the time and 20,000 workers devoted themselves to building this extraordinary tomb.
Jade, onyx, coral and agate sparkle against the dazzling marble whiteness. Dupont has drawn inspiration from this legendary monument to create a collection of exceptional objects. Slim guilloched curves in platinum pick out floral motifs similar to those carved on the monument while the gleam of iridescent mother-of-pearl inlay brings to mind the shimmering beauty of white marble.
The marble-like beauty of these rare materials is enhanced by the deep green radiance of Alpinite. Dupont Collector Set and the extraordinary craftsmanship that goes in creating it!