Pen Fountain Pen Dupont Shanghai 2009 Edition Limited A 1088 Feathers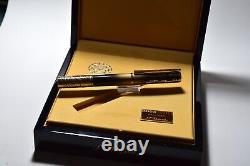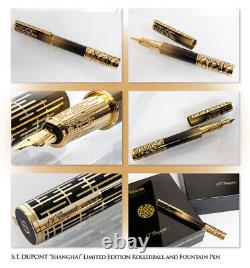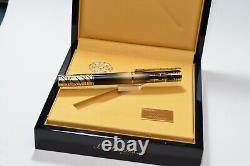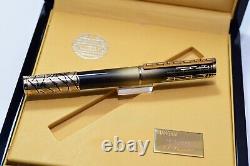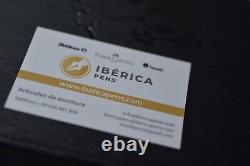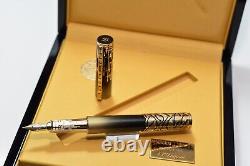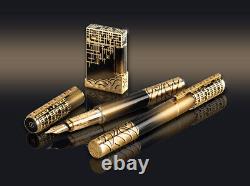 Shanghai - 2009 Limited edition of 1088 pieces. A very sophisticated lacquer mix placed with a "rain" effect on the cap and a filigree metal part added in a "ripple" shape at the bottom of the fountain pen barrel. A subtle pale gold effect adorns the black lacquer. Eight citrine stones are placed in the pen clip; 8 is a lucky number in Chinese culture. Citrine is a fine gemstone in the quartz family that has a warm yellow color and is believed to have healing properties. The top of the pen is signed with a pale gold D surrounded by black lacquer, and the bottom is engraved with the Shanghai logo. A black lacquered wooden box magnifies all the products in this limited edition. Shanghai is the first range of limited edition fountain pens to use the Neo-Classique XL (Président) format. There was also an exclusive edition called "Diamant" which had the filigree made in solid white gold on the bottom of the nib with brilliant diamonds with white gold dust delicately decorating the celadon green lacquer. The added lacquer with a "rain" effect is fixed with a mixture of 8 jade stones and 8 alexandrites on the fountain pen clip.
Jade is a jewel that was linked to the emperor in oriental culture and therefore an absolute power. The alexandrite gemstone is named after the Tsar of Russia, Alexander II, and is very rare. The top of the cap is signed with a rhodium monogram D in celadon lacquer and the bottom of the pen is engraved with the ideogram for happiness.
ST Dupont has created exceptional pieces for kings, emperors, maharajas, people of power and influence, and for collectors who seek exceptional and exclusive products. Founded over 140 years ago, ST Dupont has a rich history associated with royal families and the aristocracy. But having a strong connection to the past doesn't mean the brand adheres to a tried-and-true strategy.
In fact, it is a dedication to innovation that has allowed them to be one of the leading manufacturers of luxury for almost a century and a half. We are at your disposal for any further information. We usually reply messages within the same day, but please allow do bear in mind that our time zone differences might cause a slight delay. YOUR UNDERSTANDING WITH THESE TERMS WILL BE GRATEFULLY RECEIVED! YOU CAN HAVE A LOOK AT THE OTHER ITEMS I HAVE FOR SALE.
THANKS FOR YOUR INTEREST AND BEST REGARDS FROM SPAIN.